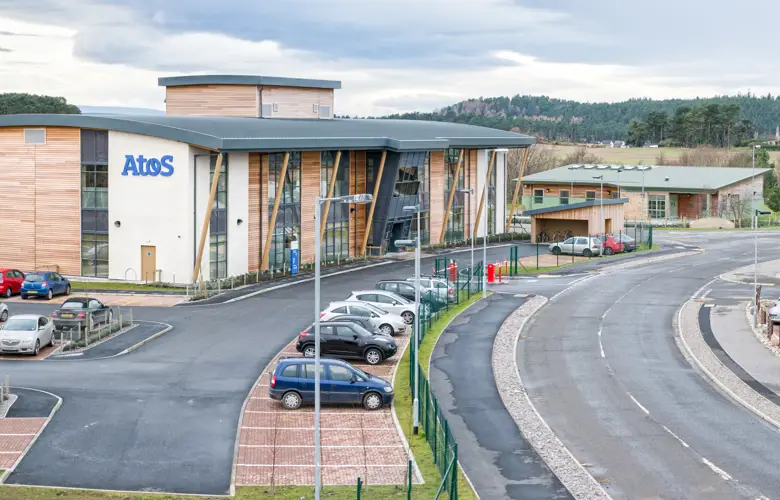 Atos
Development and Innovation Centre based in the town of Forres.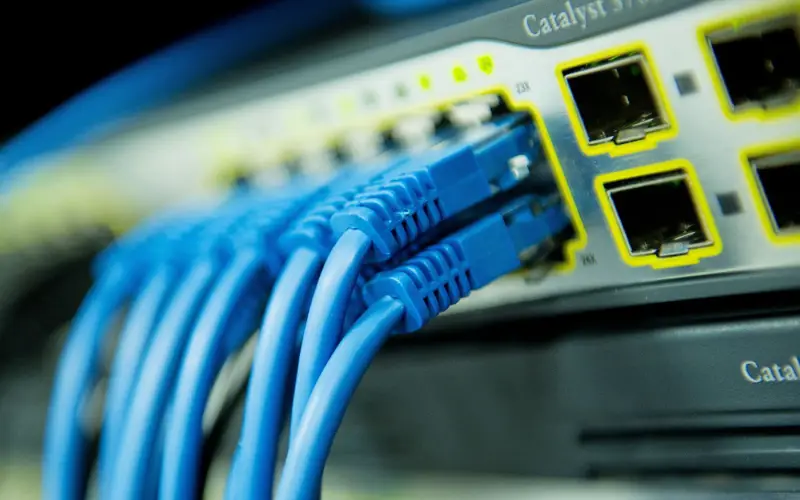 Delivering Digital Services
Atos opened its Moray Development and Innovation Centre in the town of Forres in 2013, and employs over 150 people delivering digital services across the UK and offshore in software development, cyber security, automation and managed IT services.
Atos is a global leader in digital transformation with approximately 100,000 employees in 72 countries and annual revenue of around €12 billion. Serving a global client base, the Group is the European leader in big data, cyber security and digital workplace providing cloud services, infrastructure and data management, and business and platform solutions. In the UK and Ireland, around 10,000 employees deliver business technology solutions for some of the country's largest public and private sector organisations.
The business employs more than 1,500 people at six locations across Scotland, and has been working in the Highland and Islands since 2010. With its cutting edge technologies, digital expertise and industry knowledge, Atos supports the digital transformation of its clients across different business sectors: defence, financial services, health, manufacturing, media, utilities, public sector, retail, telecommunications, and transportation. Atos is the Worldwide Information Technology Partner for the Olympic and Paralympic Games, and was also the Proud Supporter of the Glasgow 2018 European Championships.
Atos moved into the bespoke 20,000 sq ft Venture House on Forres Enterprise Park in Moray in 2013. Atos selected the town of Forres as the location for its Moray Development and Innovation Centre because it believed there was a strong business case supported by the local area's ambitious economic strategy.
The centre was created to enhance the company's delivery of its secure IT, cyber security, software development and testing services for both private and public sector clients. Atos has invested significantly in its Moray-based operation with support from HIE and now employs more than 150 people in high-value IT jobs. These include many former personnel from the nearby RAF Kinloss air base who were recruited and retrained by the company.
Owen O'Donohue, Head of Moray Development and Innovation Centre, explained the factors in the decision making process.
"HIE's role was important as it acted as a conduit providing access to others such as Skills Development Scotland and the Scottish Government. HIE has facilitated a great deal on behalf of the business, which is obviously helpful, and also built Venture House for us, working to our high security specification, and that was obviously critical to getting us up and running.
"At the setup stage we were also doing a huge amount of recruitment and both HIE and Moray Council were very supportive. Most of the first tranche of employees came from the RAF, both for the security clearance and for the lifelong learning and wider experience they brought. But when we started looking further afield HIE and the Council were very coordinated in terms of helping to organise access to schools and colleges, and letting more people know about the opportunities on offer here at Atos."
At the setup stage we were also doing a huge amount of recruitment and both HIE and Moray Council were very supportive.
Owen O'Donohue, Moray Development and Innovation Centre
Award-winning Apprenticeships
When Atos first came to Moray, it was at the time of the UK Government's Strategic Defence and Security Review and the subsequent closure of RAF Kinloss. This saw large numbers of talented and technically qualified ex-military personnel entering the local job market. Working in partnership with HIE and Skills Development Scotland, Atos was able to capitalise on these circumstances and secure a skilled base for its workforce.
To build on this solid foundation, however, Atos also sought to recruit and train young local people from day one. First introduced in 2010, the Atos Apprenticeship Scheme has been widely recognised for its quality by several national UK and Scottish awards.
In the last three years, Atos has recruited and trained nearly 100 highly skilled apprentices in Scotland (in Forres, Glasgow, Livingston, Linwood and Dundee), including 35 cyber security apprentices located at their Moray Development and Innovation Centre. The programme includes a permanent contract from day one, formal training, development programmes, and qualifications through QA, Atos' training provider.
Atos is one of the UK's top apprentice employers by RateMyApprenticeship.co.uk's Top 70 School Leaver Employers Table 2017.
"We are very proud to lead the way in offering highly skilled apprenticeships for young people across Scotland, especially in areas like cyber security where there is a need for more skilled professionals," explains Owen.
"We are incredibly lucky to have such bright and motivated young people locally in Forres, Elgin and slightly further afield who are employed by Atos. We value highly the work, dedication and skill of our apprentices, who have added a new, fresh dimension to the business over the years. Working here at Atos, and with the support of HIE and Skills Development Scotland, they have been given an opportunity to build a really good career in technical areas where we see our business continuing to growing for many years to come."
Focus on Cyber Security
One particular focus for growth is the field of cyber security where there continues to be a skills shortage worldwide. Atos has recognised the extent of the cyber skills challenge and has already embarked on a proactive future-skilling programme with their UK workforce.
Following the launch of the Government Apprenticeship Levy, designed to increase the number of apprentices, Atos, in conjunction with its learning partner QA, now offers opportunities to complete training and certification that will result in apprenticeship accreditation at different levels. This includes providing a range of pathways designed to enable technical graduates coming straight from numerate disciplines, experienced professionals looking to change careers, degree apprentices or non-tech graduates converting to technology roles to pursue the learning and certification needed to develop a career in cyber security.
In addition, Atos continues to recruit graduates to its 12-week Cyber Security Academy, which is accredited by the Universityof Derby.
"Yes, we continue to grow our cyber security capability in Moray," confirmed Owen. "We are also proactively developing future skills within our workforce through our 'Future Fit' programme, that invites employees to join a Digital Growth Network in Cyber Security. This enables them to follow a long-term curriculum of learning, including certification, alongside their current roles, to keep in-step with the evolving cyber threat and benefit from mentoring from our more experienced cyber security professionals.
"All this accelerates the readiness of employees to apply for cyber security roles in our business, and for Atos to continue to be the number one European and a global leader in cyber security. It's an important aspect of our business growth which enables us to support our clients on their digital journey."
Read more +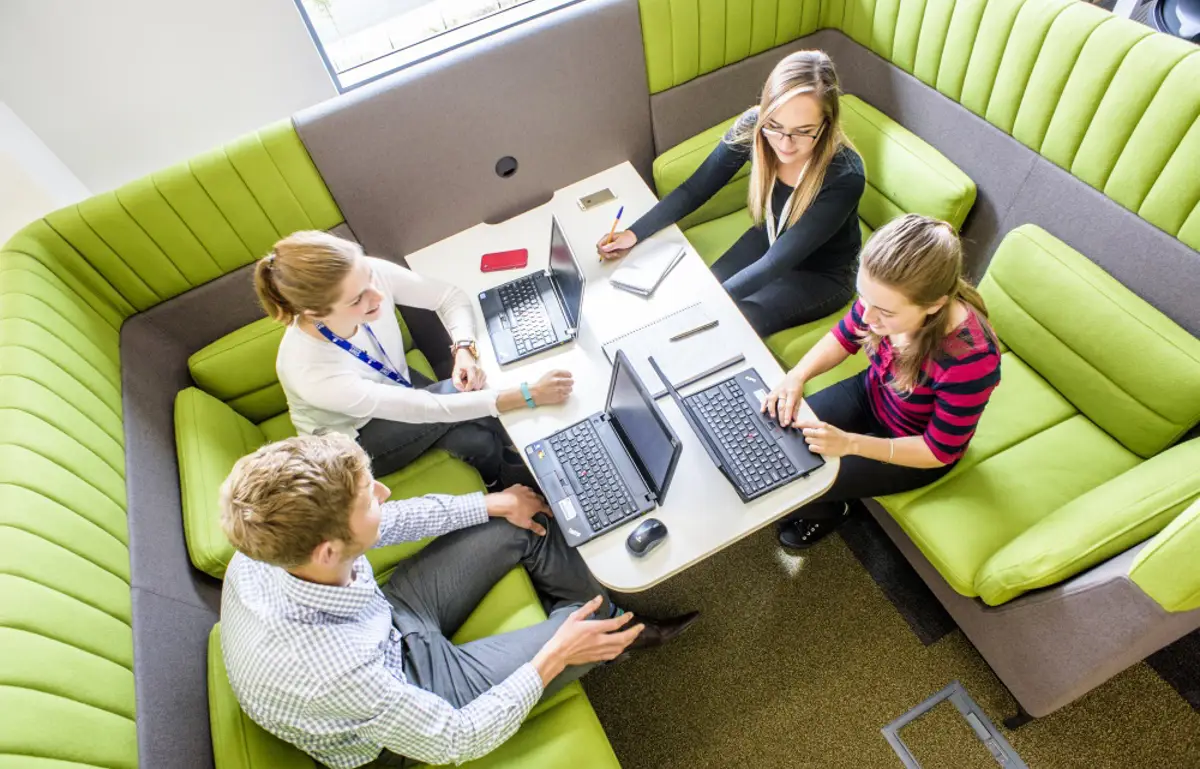 Skye Connections
"I began this business on the Isle of Skye and we have managed to build something that now has a national and hopefully soon an international reputation, we have had good support and advice along the way from the local team at HIE and from others such as SDI and the wonderful GlobalScot network," said Owen.
"We continue to employ over 20 here in Portree on Skye, and that's a sizable business for the island, but we also have offices in Edinburgh, Oxfordshire and London. Right now, we are looking to recruit another ten people to the team, and that will take us to over 60 employees across all sites in 2018.
"Of course, being based on Skye means I have to travel a lot. But for me, the benefits of living here outweigh the travelling. I was brought up here and so it will always be home. For me, there really is nowhere else in the world that is quite like the Highlands and Islands of Scotland."
Read more +